No results were found for the filter!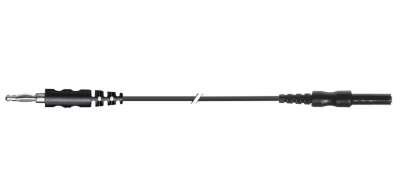 Connection Cable
Electorde Side Device Side Colour Cable length Packaging Spring 2 mm 1.5 mm Red 85 cm 10 pcs. Spring 2 mm 1.5 mm Black 85 cm 10 pcs.
Alligator-Clip Lead Wire Sets
– Lead wires terminate in 1.5 mm touchproof connectors – Designed for use with disposable tab electrodes without lead wires – Compatibility: Most EMG systems Type Quantity Complete Set 1 set/pkg red / black pair 1 pair/pkg Ground 1/pkg
Press stud cable 1,5 mm TP 10 pcs.
Press stud cables are suitable for press stud electrodes to the various devices for EKG - EMG - EEG. Touch Proof Ø 1,5 mm DIN 42802 Pack: 10 pcs. Color (available in one of the following colours) Cable length black, red, green, yellow, white, blue, brown, grey, pink, orange 100 cm black, red, green, yellow, white, blue, brown, grey, pink, orange 150 cm black, red, green, yellow, white, blue, brown, grey, pink, orange 200 cm Mix: 2 x black, yellow, green, white, red 100 cm Mix: 2 x black, yellow, green, white, red 150 cm Mix: 2 x black, yellow, green, white, red 200 cm
Jumper Lead Adaptercable
Electrode side: 1,5mm DIN socket Device side: 1,5mm DIN connector Cable length Color 15 cm black 15 cm red 15 cm green
Extension cable 1.5mm touchproof
Suitable for any equipment with 1.5mm TP connectors Touch Proof Ø 1,5 mm DIN 42802 1.5 mm TP to 1.5 mm socket Pack of 10 cables with mixt colors Different lengths and connectors available upon request Cable length 50 cm 100 cm 150 cm 200 cm 250 cm